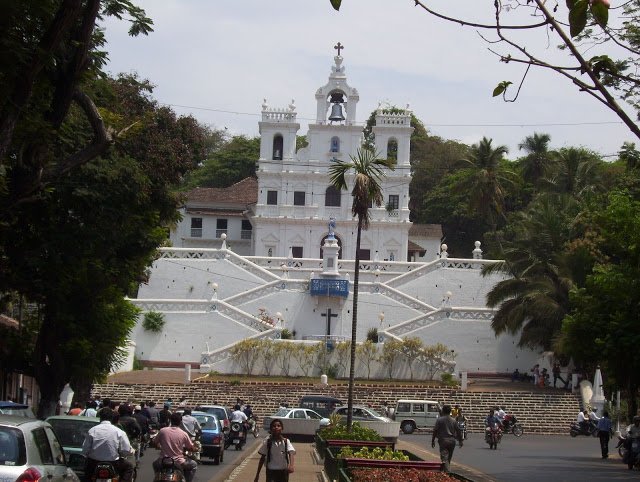 We had tea and toast and lazed around in bed till about 9.30. With no fixed agenda for the day, we thought of going a little easy on ourselves…already every inch of our bodies was aching from the swimming and walking.
Deepa suddenly remembered that we'd been forgetting something very important – souvenirs. We quickly made a list of all our friends for whom we had to take back souvenirs and the list got longer and longer…colleagues, bosses, cousins, relatives, et al.
At about 10 we found ourselves on board a bus to Panjim on our way to Calangute beach. The Govt Handicrafts Emporium in Panjim had a good range of products on offer—amazing stuff made of seashells, coconut fibres, wood, etc. and after we'd bought everything we needed, the saleswoman handed us a big carton. We asked her if she'd keep the carton till we got back from the beach in the evening. In true Goan spirit, she agreed readily.
The first thing we did as soon as we reached the beach was to hire two deck chairs and umbrellas for 100 rupees. We settled down and whiled away more than an hour watching the vast expanse of water before us and people absorbed in various activities. Ah, what a life!
As we lazed around, a waiter from a nearby restaurant on the beach served us beer, fried prawns, juices and other snacks…mmm… it felt like heaven (I love to idle around watching people). As I lay there sipping my beer, I saw a group of guys playing soccer on the beach. Soon, I found myself amongst them kicking the ball around. It's one hell of a tough task playing in the sand. Just minutes into the goalless game, and I was panting and finding it hard to get my breath back. I had to call it quits. After clicking a couple of photos with the guys (they were from Mumbai), I took a dip in the water. As the waves receded, it felt as if the water was sucking all the tiredness from my body. I sat on the wet sands and let the occasional waves hit me. It carried on for several minutes, till the salty water made me thirsty for more beer.
Ok! Now comes that part of our wonderful Goa trip which literally left a bad taste in our mouths. Coming to Goa and not to taste their local brew – fenny – would be a real shame, we thought. So with a flourish, we placed an order for fenny. The waiter advised us to try fenny with Limca as it's a good combo. So it was coconut fenny with Limca. Deepa was skeptical at first but after some persuasion, decided to give it a try. I watched with amusement as she took her first sip and … spat it out immediately while I thought it best not to insult the drink about which I'd heard so much. It was only when we were back home in Delhi did we learn from our friend Brian that that was not the way to drink that horrendous smelling drink. There's another more elaborate and sophisticated way of downing it. Anyway, at that moment there was an urgent need to get rid of the offending taste with some good Goan food. There was a restaurant close to where we sat by the name of Sousa Lobo. I ordered beer and shredded lamb fry for starters…the main course I don't remember. All I remember was the polite waiter in a bright floral shirt asking me to please put on my shirt as it was against their restaurant rules. I complied and we finished our lunch which was quite okay but not as good as we'd heard.
Meanwhile, Deepa was unable to eat. Even after a mocktail and the lunch, the taste or should I say the stink was still lingering in her nose. She felt pukey and we rested in our deck chairs for some time before going for one last, long swim. By now it was almost late afternoon. We had to make some social calls back at Vasco, so we wrapped up our belongings and were back at Vasco by 6 in the evening. After picking up our carton of souvenirs from Panjim of course.
Deepa was not feeling too good and the big toe of my right foot was swollen…probably I'd hit it against something while playing soccer. However when the studio handed over the prints of the previous day all was forgotten. By the way our paragliding shots came out splendid. We were expecting one photograph but the person to whom we'd handed over the camera, had clicked several photos at different stages of our take-off, mid-flight and touch-down.
Since Deepa declared that she was skipping dinner, I settled for a dosa at an Udupi restaurant opposite the Vasco Tourist Hostel. We reached home early – a perfect time to drop in at our friend's family home. Tired that we were, we decided to crash out early.
By the way, the rotten smell in our room had worsened. For Deepa who was feeling sick already from the smelly of fenny, it was a double whammy. A search operation was again undertaken but to no avail…I emptied my deodorant and it felt better.
Since our train was at 6 pm the next day and we had ample time to go to Bogmallo beach again, I decided to pack our bags that night itself so that we didn't need to waste time the next day. Deepa was admiring the photos all over again. So except for our essentials, all went inside. At around 9, sleep overpowered us.
Surprisingly on day four when we woke up, the rotten smell was gone. It was 8.30 and there was someone at the door. It was Victoria, the kind lady in whose flat we were staying. As Deepa chatted with her I packed rest of the bags.
Victoria who had office was off after half an hour. I had my breakfast, while Deepa had just tea. Taking pity on our bodies which were protesting and begging for some respite after three days of hectic activities, we decided to give Bogmallo Beach the slip. But we went shopping instead. A couple of our friends had asked us to pick up some port wine, fenny (poor souls they knew not what they were in fore!!), bebinka, fish pickles, and kokam juice.
We bought the stuff and took an auto home. The driver offered to drop us at Madgaon railway station and said he'd be back around 2 pm. We vacated the flat, handed over the keys to Victoria and with heavy hearts reached the station much before time.
Madgaon has a small station, bigger than that of Vasco but much smaller than that of New Delhi. While I had lunch at the canteen, Deepa had nothing but an idli…she was still out of shape. At around 5.45 we boarded the Konkan Kanya Express to Mumbai, where we would make a night halt at our friend's place. There was a nail-biting India-Australia cricket match going on that day and groups of people had gathered around the mounted TVs on the platform. It's only in cricket-crazy India that one can expect a train's departure to be delayed to coincide with the end of a match. As the train pulled out of the station, our beautiful Goa holiday came to an end.
Since I will not be writing about our trip to Mumbai, I should tell you about the rotten stink we had to bear for three days in Vasco. The next day at our friend's place in Mumbai, Deepa opened the suitcase to take out fresh clothes and let out a horrified scream. She gasped for breath and looked as if she was going to puke. The suitcase was stinking of the same rotten smell that had been plaguing us in Vasco! Finally the culprit was discovered – Deepa had happily gathered a few shells from the beach which she'd brought home and kept in a polythene bag (can you believe it?). Without realizing that the denizens inside those shells would dry up and stink to the high heavens, I'd kept the bag in the suitcase…therefore the stink. And before that, they'd been kept in a drawer at the house in Vasco.
Immediately it was removed to the trash bin much to Deepa's relief. Till today Deepa blames me for the entire stinking episode.